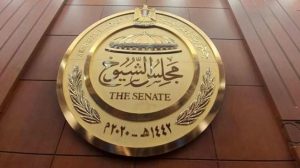 The Egyptian Senate approved the new amendments to the labor law on Sunday.
The Senate, headed by Counselor Abdel Wahab Abdel Razek, approved, in principle, the draft labor law submitted by the government, during the plenary meeting today, to discuss the report of the joint committee from the Energy, Environment and Manpower Committee and the Office of the Constitutional and Legislative Affairs Committee on a draft law submitted by the government And referred by the House of Representatives to issue a labor law.
As per the new amendments, the public empolyee shall not be dismissed wrongfully. The Senators highlighted the importance of the labor bill in protecting the rights of the worker and the employer alike.
Members of the National Wages Council agreed that the decision of the National Wages Council to set the minimum wage for workers in the private sector at LE 2,400 will be mandatory for private sector establishments as of January 2022, after stumbling facilities due to the economic pressures imposed by the Corona pandemic were granted a space of flexibility for progress The Council requests an exception from the application of the minimum wage until its economic conditions improve.
Minister of Manpower Mohamed Saafan has said the amended draft of the labor law is compatible with all international agreements Egypt had signed.