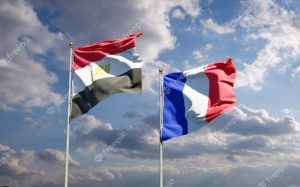 The new French ambassador strongly encourages cooperation between France and Egypt
French Ambassador Marc Baréty: said that France and Egypt share the same priorities for climate change, electric cars and the localization of green hydrogen industry.
His remarks came during his meeting on Tuesday with International Cooperation Minister Rania El Mashat.
The international cooperation minister said that Egyptian-French strategic ties would contribute to achieving the sustainable development goals, through providing funding for priority projects in various sectors.
Further, she highly praised the agreements signed with the French Development Agency to provide funding worth 50 million euro to modernize the metro's first line at a length of 44 km.
Mashat added that Egypt's hosting of the UN Climate Change Conference 2022 (COP 27) in November 2022 in Sharm El-Sheikh would enhance the country's pioneering position in the Middle East and Africa to lead green transformation efforts, especially after launching the National Strategy for Adaptation to Climate Change by 2050.
She went on to say that the State moves ahead with bringing about the green recovery agenda, through eco-friendly projects.
The international cooperation minister explained that the private sector should have a pivotal and key role in implementing plans for adaptation to climate change and mitigating its effects.
On his part, the French ambassador commended the significant progress in Egyptian-French relations, citing the exchange of high-profile visits between the two countries.
Baréty pointed to the recent deal inked between the Egyptian and French governments to finance priority projects, including the modernization of the metro sector.